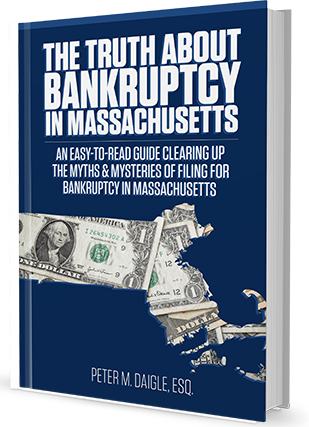 The Truth About Bankruptcy in Massachusetts
CALL 508-401-7090 & Order Your Free Book Today
Consumer bankruptcy attorney Peter M. Daigle clears up the myths and mysteries of bankruptcy in this easy-to-read guide about filing for bankruptcy in Massachusetts.
These questions and more are answered in this essential guide:
Do I qualify for bankruptcy and how long does it take?
When will the creditors stop calling?
Will I lose my house?
What debts can't be discharged through bankruptcy?
Let the answers in The Truth about Bankruptcy in Massachusetts guide your decisions as you work to determine whether bankruptcy is the path to debt relief that best fits your situation.