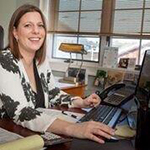 With over 16 years of experience working in the bankruptcy field, Karyn is the Chapter 7 Case Administrator. She has been a part of Daigle Law Office since 2013.
"Means Testing", "lien avoidance". "exemptions", etc. You may not be familiar with these technical bankruptcy terms, but Karyn Lukas is. Each of these terms and many more are the explicit bankruptcy issues where Karyn Lukas uses her 16 years of bankruptcy preparation and filing experience.
This experience allows her to operate as an invaluable member of the Daigle bankruptcy team to obtain the client's "diploma" – a Discharge of debt.
"We create a lot of bonds with our clients. It's so emotional and very intimate because they are divulging their entire lives to us. We meet them in a time of their greatest struggles and help them through it all. The greatest reward is seeing the relief and peace on their faces when they have completed the process. We create life long bonds with our clients and most are even strengthened by the entire experience".
In her free time, Karyn enjoys spending time with her husband, three children and her pets. She also likes traveling and enjoys the smaller things in life.